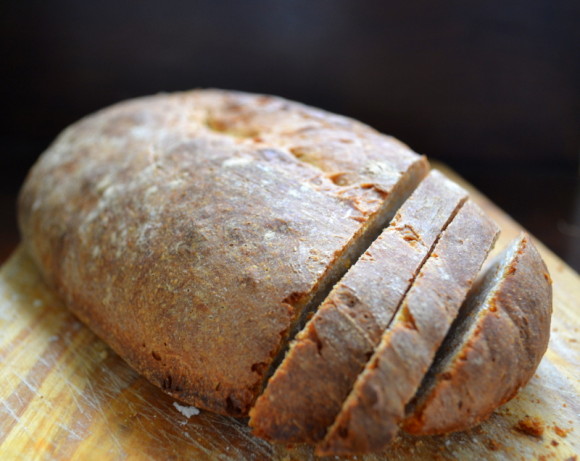 Czy jest coś pyszniejszego niż smak świeżego chleba?
Czy jest piękniejszy zapach niż zapach chleba?
Dla mnie nie!
Kiedy byłam dziewczynką,często wyprawiano mnie do pobliskiej piekarni po chleb.
Zabierałam kolorową siatkę i szłam kilka ulic dalej.
Wtedy istniały jeszcze małe rodzinne piekarnie.
Wtedy pieczono prawdziwy chleb.
Piekarnia pachniała pięknie!
Na ladzie zawsze leżały okruchy.
Miałam ochotę zbierać je i jeść…
Pan Piekarz łopatą wyrzucał na półki gorące jeszcze bochenki.
Pani Piekarzowa uśmiechała się i z zadowoleniem patrzyła na klientów.
Przez otwarte na zaplecze drzwi widziałam ogromny stół.
Na nim leżały świeżo uformowane chleby.
Pan Piekarz ubrany na biało,pomazany mąką,układał je równo jeden przy drugim.
Wtedy chciałam być piekarzem.
Naprawdę!
Szybko biegłam do domu z pachnącym chlebem.
Zaraz w kuchni dostawałam dużą piętkę z masłem.
Chrupiący chleb i cudowne masło,które często płynęło na gorącej kromce.
Nic nigdy nie smakowało mi bardziej!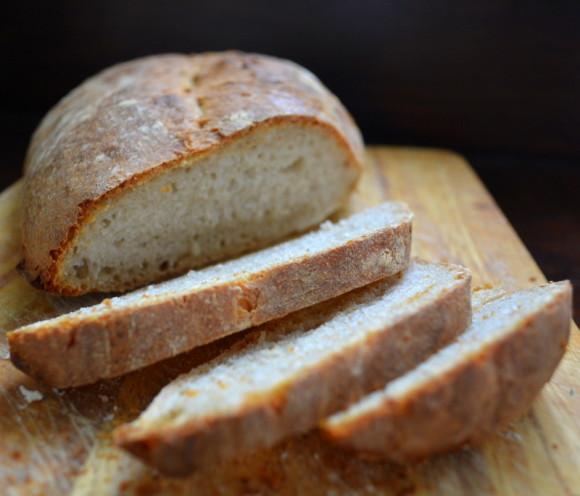 Chleb Młynarza zaproponowała do wspólnego pieczenia Renata Sharman.
Pyszny,prawdziwy chleb na zakwasie.
Z chrupiącą skórką.
Taki,który kochają wszyscy.
Taki,który przypomina chleb z dzieciństwa i najchętniej je się go z samym masłem.
Przepis podaję za Renatą.
Chleb Młynarza
skladniki na 1 bochenek
( ja zazywczaj podwajam ilość i robię 2, ale mnożę składniki przez 2,5 bo wychodzi mały na moją rodzinę)
Zaczyn (wieczór wcześniej):
• 65 g mąki pszennej chlebowej (chyba typ 850)
• 45 g wody
• 1 łyżka aktywnego zakwasu żytniego *
Wszystkie składniki zmiksować. Przykryć folią i pozostawić w temperaturze pokojowej przez 12 godzin (całą noc).
Ciasto właściwe:
• 365 g mąki pszennej chlebowej
• 20 g mąki żytniej (użyłam mąki żytniej pełnoziarnistej)*
• 250 g wody
• pół łyżki soli
• cały 12-h zaczyn
Wszystkie składniki oprócz soli wymieszać na wolnych obrotach przez 1 minutę, przykryć folią lub ściereczką na 30-60 minut. Dodać sol i miksować na wolnych obrotach przez kilka minut. Ciasto będzie dość klejące. Ciasto wyjać na omączony blat i jeśli jest zbyt lejące, wgnieść trochę mąki,choć nadal musi być bardzo wilgotne i klejące. Przełożyć do naolejonej miski , przykryć folią i odstawić do wyrośnięcia w ciepłym miejscu na 2,5 godziny. W czasie wyrastania należy ciasto odgazować co 45 minut na omączonym blacie poprzez skladanie go na trzy, obrócić o 90° i złożenie na pół.
Po wyrośnięciu (powinno podwoić objętość) uformować wąski bochenek, umiścić w bardzo dobrze omączonym koszyku do wyrastania lub uksztaltować wąski podłużny albo okrągły bochenek bez koszyka, bo ciasto utrzymuje kształt. Bez koszyka najlepiej uformować bardzo wąski bochenek, gdyż ciasto wyrośnie wszerz bardziej niz na wysokość. Wierzch obsypać obficie mąką. Jeśli formujemy w koszyku lub w innym naczyniu, szew ciasta powinien być u góry, jeśli bez naczynia lub koszyka, to szew powinien być na spodzie i powinien być dobrze sklejony. Należy chleb ułożyć na pergaminie, co ułatwi przenoszenie go na kamień do pieczenia bez zrujnowania kształtu chleba. Odstawić do wyrośnięcia na tak długo aż niemalże podwoi objętość, ale nie musi. U mnie trwa to zazwyczaj okolo 2 godzin, choć czasami tylko 1 lub 1,5 h. W międzyczasie dobrze nagrzać piekarnik do 220 °C (z termoobiegiem odpowiednio niżej, jeśli piekarnik sam nie obniża odpowiednio temperatury.) Na dnie piekarnika ustawić przed włączeniem żaroodporne naczynie na wodę lub płytką foremkę do ciast. Gdy piekarnik jest odpowiednio gorący, natychmiast naciąć chleb bardzo głęboko, minimum 3cm w najwyższym punkcie bardzo ostrym nożem, skalpelem lub zyletką. Ja często popelniałam ten błąd,że nacinałam tylko 2cm i chleb zasklepiał skórke i nie mógł odpowiednio i ładnie urosnąć w piekarniku. Z tego powodu też często brzydko pękał, gdyż chleb ma ogromną tendencję do niemalże podwajania objętości w trakcie pieczenia.
Wstawić chleb na kamień i natychmiast wlać szklankę wrzątku do naczynia. Piec okolo 35-45 minut, można też obiżyc temperaturę po 20 minutach, jeśli chleb się zbytnio zrumienił. Chleb powinien wydawać głuchy dzwiek jesli zapukamy palcem w spód.
Studzić na kratce.
* Żytni zakwas wyjmuję po południu przed pieczeniem, powiedzmy o godzinie 15:00. Zazwyczaj mam go tylko 50 g, po osiągnieciu temperatury pokojowej, karmię tą samą wagą, ale nie 50% i 50% tylko 60% wody i 40% maki żytniej, czyli 30g letniej wody i 20g mąki żytniej, zakwas waży teraz 100g
* po 8 godzinach czyli 20:00 lub 21:00 karmię go znowu podwajając jego wagę, czyli dodaję 60g wody i 40g mąki i mamy 200g zakwasu, a potrzeba nam tylko parę łyżek
* Po nocy zakwas jest gotowy, jeśli opadł, rzucam małą garść mąki i trochę wody tak na oko daję mu kilka godzin
**pszenny zaczyn/zakwas może być zrobiony na kilka dni przed, ale może być też młody zaczyn, wtedy dodajemy 1 łyżkę żytniego zakwasu dodatkowo do chleba
Dla tych, którzy nie mają pszennego, wieczorem przed pójściem spać nastawić 75g maki pszennej typu 850 i 75g letniej wody, przykryć i odstawić w ciepłe miejsce
*ten składnik często pomijam, dodając następną łyżkę żytniego zakwasu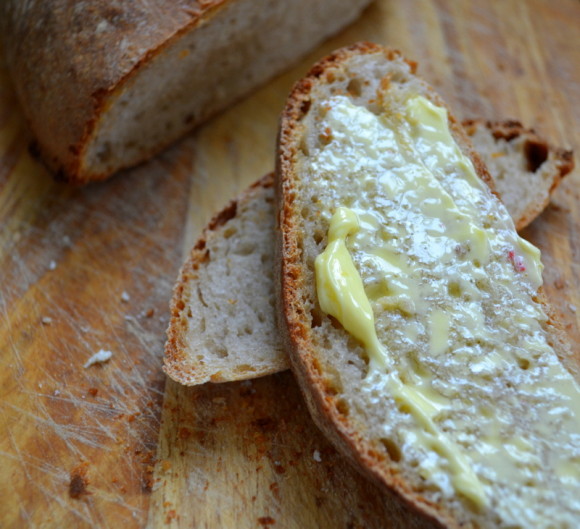 Chleb Młynarza piekłyśmy w doborowym towarzystwie:
Ania http://bajkorada.blogspot.com/
Ania http://jswm.blogspot.com/
Basia http://mozaikazycia.blogspot.com/
Bożena http://www.smakowekubki.com/
Chantel http://przykubkukawy.blox.pl/html
Ewelina http://table-table.blogspot.com/
Jola http://smakmojegodomu.blox.pl/html
Laura http://kuchennawyspasmakow.blogspot.com/
Magda http://konwaliewkuchni.blogspot.com/
Majka http://kalejdoskopkulinarny.blogspot.com/
Małgosia http://kochamgary.blogspot.com/
Margot http://kuchniaalicji.blogspot.com/2013/08/chleb-mynarza.html
Marzena http://zaciszekuchenne.blogspot.com/
Olimpia http://pomyslowepieczenie.blogspot.com/
Renata http://piegusek1976.blogspot.com/
Renata Sharman http://forksncanvas.blogspot.com/
Sara http://www.pieczarkamysia.pl/
Wisła http://zapachchleba.blogspot.com/
i ja Amber https://www.kuchennymidrzwiami.pl/


Dziękuję,że mogłyśmy znowu być razem mimo różnych niedogodności i wakacyjnych wyjazdów.
Dziękuję Wam za wszystkie upieczone chleby!